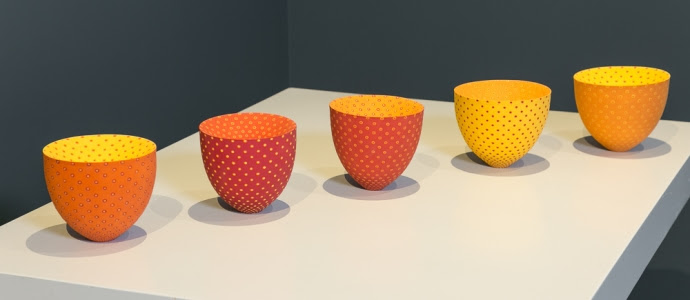 Our Surface Matters exhibition, the Design & Craft Council Ireland's PORTFOLIO Critical Selection 2109 – 2020, opens on November 21 at 6.30pm in the National Design & Craft Gallery. Join us for our launch event.
During December we have a feast of festive treats at the gallery with workshops for children, adults and families. Join our designer makers, learn a new skill and create a personalised Christmas decoration.
FREE WORKSHOPS FOR FAMILIES
Sun 1 Dec, 11.30am and 2pm
Come along to the gallery for our family friendly YuleFest Kilkenny workshops with ReCreate. Explore ReCreate's reuse, sustainable materials and have fun making a Christmas hat, stocking or Christmas card.
Workshops are free, but pre-booking is required.
€35
Thu 5 Dec, 6.30pm to 9pm
Get ready for Christmas with this festive hands-on craft workshop. Make willow decorations with Heike from Baurnafea WillowWorks and candles with Larry Kinsella from Moth to a Flame. Perfect for Christmas gifts or for you to treasure.
Workshop participants will do both workshops. There will be festive drinks and snacks served in between the two workshops.
CHRISTMAS CRAFT CLUBS
FREE. SUITABLE FOR AGES 5 TO 12
Sat 7 Dec, 10.30am or 12 noon
Create ceramic Christmas tree ornaments with Sandra McAllister, the National Design & Craft Gallery's resident Craft Club facilitator. Explore the innovative works on display in the Surface Matters exhibition, find your inspiration and create a personalised ornament to take home.
Enjoy festive refreshments from 11.30am to 12 noon.
FREE. SUITABLE FOR AGES 5 TO 12
Sat 7 Dec, 2pm or 3.30pm
Hand print your own Christmas cards with print maker Debra Bowden. Create your own designs or print from pre-carved woodblocks.
Enjoy festive refreshments from 3pm to 3.30pm.
National Design & Craft Gallery
Castle Yard, Kilkenny, Ireland
***************************************************
Notice of future meetings of GANS will be published on FELTMAKERS IRELAND site. As your rep I will attend the meetings and furnish a short account for the site. I will also post notice of upcoming meeting. I would advise that all members keep an eye on DCCoI site as well as Feltmakers Ireland so that they are aware of current happenings. Signing up to the Craft Council ezine would also be worthwhile.
GANS Representative: Breda Fay